Automatic Nasal Aspirator for Babies and Toddlers. No-stress Electric Booger Aspirator with Interchangeable Nozzles, Adjustable Suction Power, and Music and Lights to Soothe Baby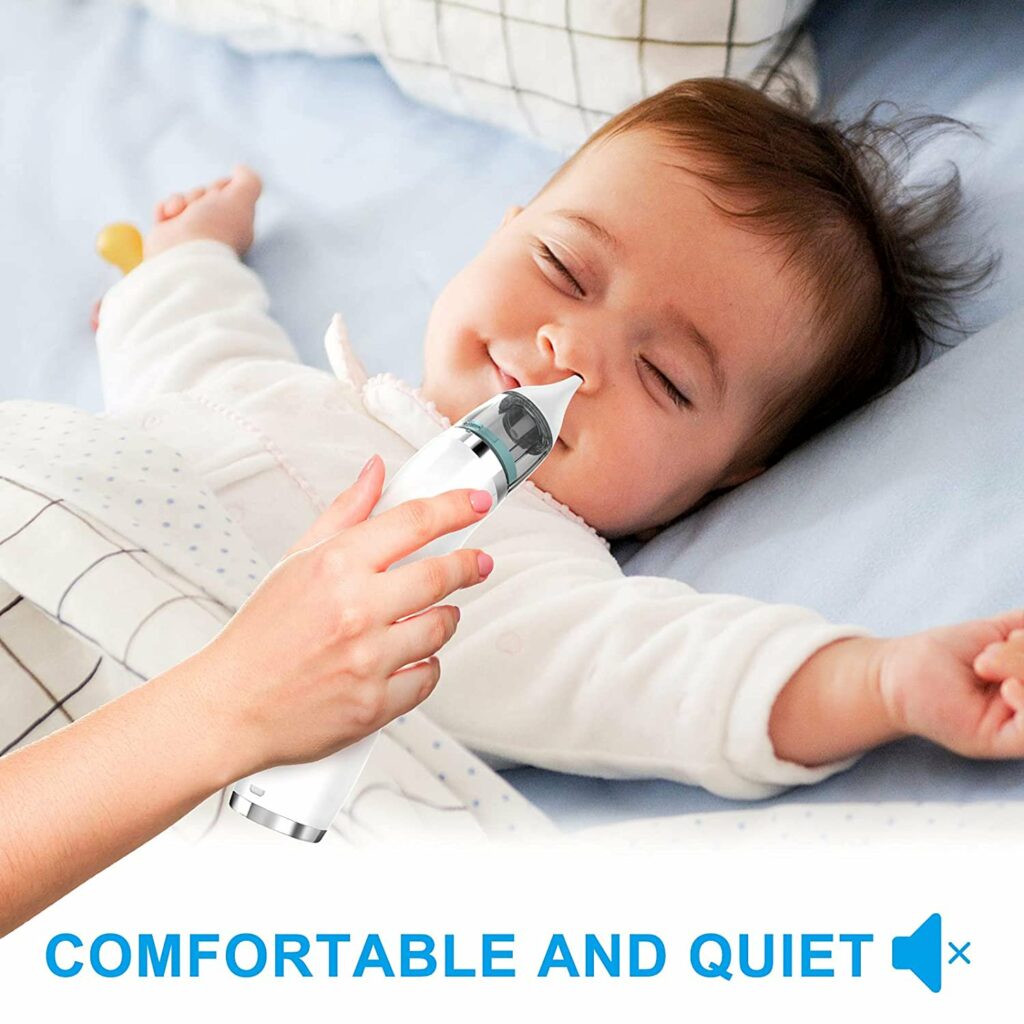 The Nasal Aspirator That Won't Cause Stress to Both Kids and Parents – Getting Those Boogies Is Made Easy! 
Are you stressed out every time you need to remove the boogers and mucus inside your child's nose? Are your kids afraid of the traditional nasal aspirators?
Make the process of removing boogers and music easier. Introducing the BooBoggs automatic nasal aspirator for infants and toddlers. This nasal aspirator makes the process less scary with delightful lights and music. With adjustable suction levels, you can also tweak the force of the device which makes your kids less scared of the process.
With interchangeable heads, you can find an option that will make the entire boogie-getting process easier for you.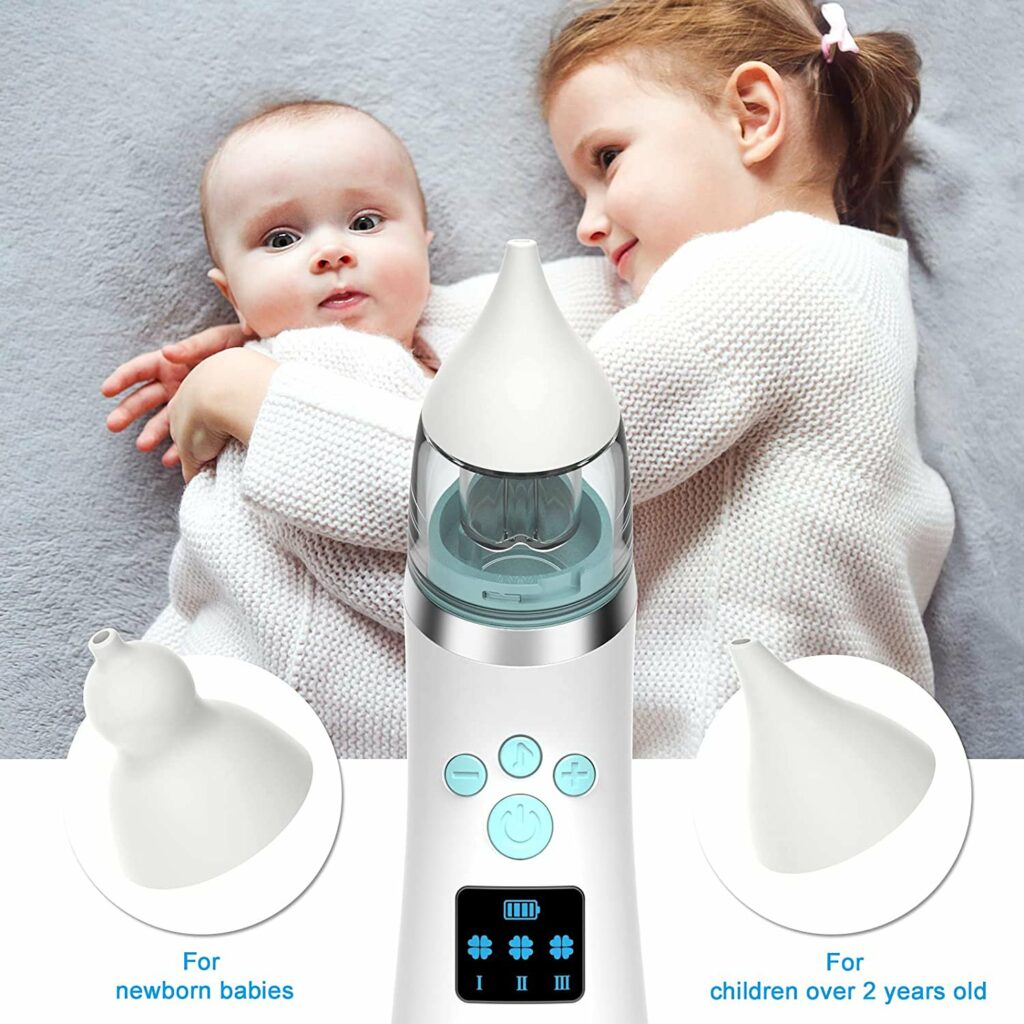 The BooBoggs is for you if… 
You're looking for an electric nasal aspirator that isn't too intimidating for kids.
You prefer a nasal aspirator for kids with adjustable levels.
You want an aspirator with interchangeable heads for multiple use.
You want a device that won't scare off your kids.
You prefer a device with sounds and music that will soothe your kids during the process of getting boogers and snot.
You are looking for a nasal aspirator that is made from the gentlest, kid-friendly materials.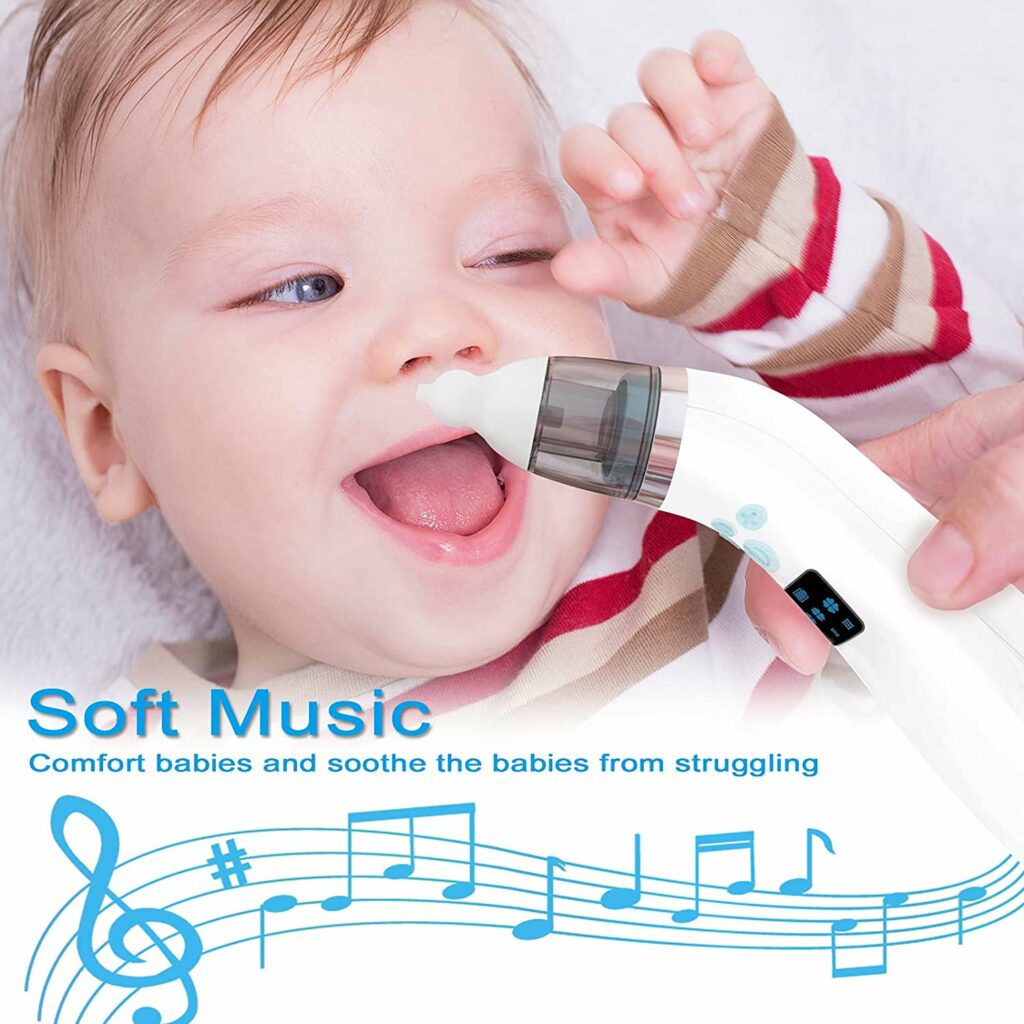 Comes with a Strong Suction That Works for All Kinds of Snots and Boogers
The power of the BooBoggs can reach up to 65Kpa – strong enough to remove even the hardest of boogers without hurting or scaring your little one.
The Suction is Adjustable to Three Levels – Best for All Babies with Different
Comfort Levels
The pressure of the suction is strong, but it is also adjustable based on your child's comfort levels. You can choose from 3 pressure levels that can cater to hard boogers, soft boogers, and easy-to-remove mucus.
Inspected for Safety – Guaranteed 100% Safe for Your Kids' Delicate Nose
The materials and the features of the BooBoggs have passed through meticulous quality checks to ensure it is safe for your child's young nose. The materials are also 100% toxin free and BPA-free.
Comes with Soothing Music and Lights to Prevent Babies from Getting Scared
No more crying from baby. The BooBoggs includes soothing music and lights to stop babies from becoming terrified of the nasal aspirator. The beautiful sounds and eye-catching lights can put your baby in a daze while you remove snots and mucus.
The Nasal Aspirator Includes a Snot Catcher – No Mess to Worry About
Worried about stuff going everywhere? Not anymore with the BooBoggs. This nasal aspirator includes a small snot catcher where boogers and mucus gets deposited before you clean the device. No more mess to worry about.
Includes 4 Interchangeable Heads for Different Needs + A Tweezer
The package includes interchangeable heads for different nose sizes. The package also throws in a tweezer for those boogers that are so hard to reach.
Easy to Clean!
The material of the BooBoggs makes cleaning a breeze!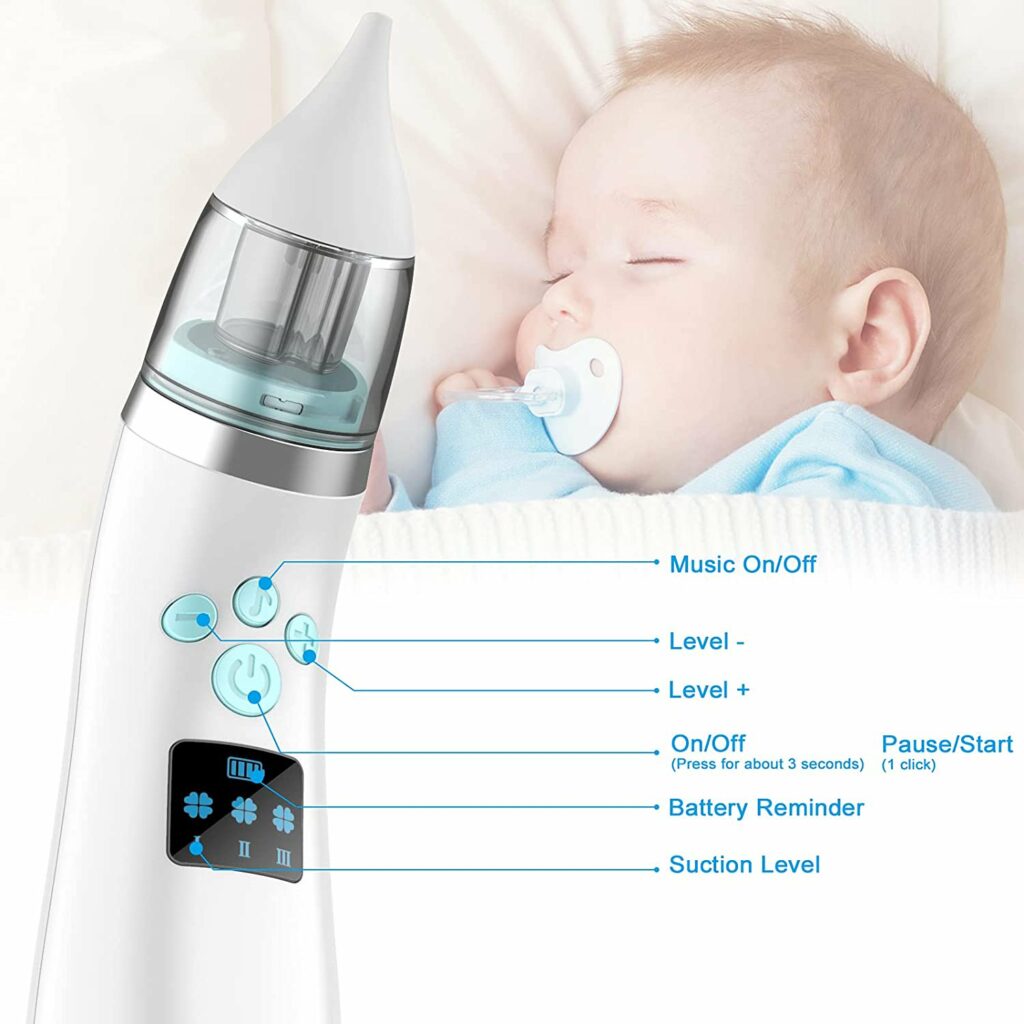 Specifictions
Material: ABS+Silicone

Color: White/Cyan

Input voltage: 5V=0.5A

Working voltage: 3.7V

Battery capacity: 400mAh

Product size: 7″×2″×2″

Package size: 8.6″×5.7″×2.3″
WHAT YOU GET:
1 x Nasal Aspirator

2 x Gourd Type Silicone Tips

2 x Funnel Type Silicone Tips

1 x USB Cable

1 x Nasal Tweezers

1 x User Manual