Track your heartbeat and O2 levels easily with EZPulse!
Is keeping track of your heartbeat and oxygen levels a big part of your daily routine? Or, are you someone who's still going to the nearest hospital or clinic just to take those pricey tests?
Don't make health management such a hassle. Get yourself a trusted and reliable pulse oximeter with EZPulse!
This device uses the latest oxygen sensor technology to deliver fast and accurate data about your real-time blood O2 levels and pulse rates. With just a simple clip on your fingertip, the EZPulse can give you access to your status and help you assess your health for better management.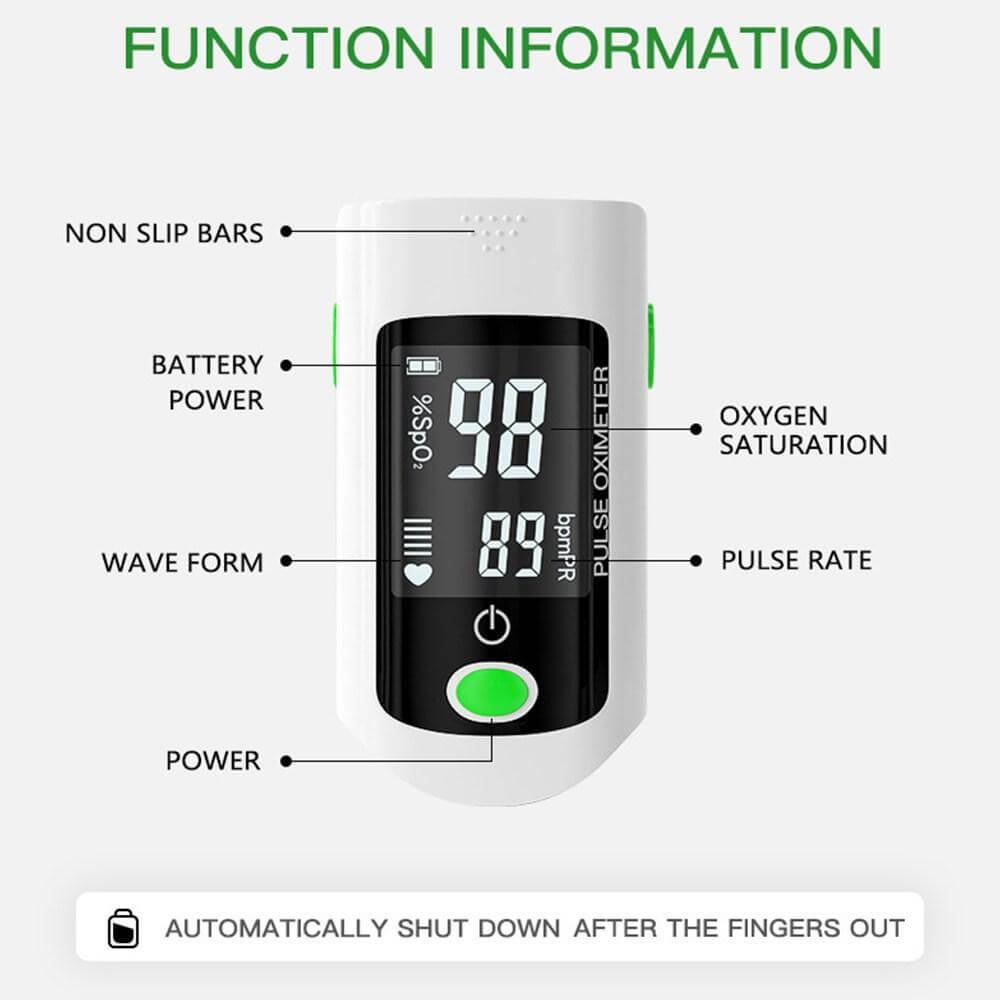 With EZPulse, you can stay on top of your health and initiate in-depth conversations with your doctor about your overall health!
Up 100% measuring range to accurately determine your health line
Access comprehensive data for better health management
Convenient use to help you run checks anytime, anywhere
Check out these amazing features:
RELIABLE AND EASY TO USE: The EZPulse is designed to level up your family's health management with ease. It is suitable for family monitoring, for athletes that would like to measure their oxygen levels and even the elderly people over 60 years old. And, if you're someone who's working for more than 12 hours a day, this device is your quick and reliable access to your real-time health status.
COMFORTABLE WEAR: Our Pulse Oximeter slides like butter every time you run a test. The rubber hole ensures that it fits perfectly on your fingertips without any discomfort.
QUICKER RESULTS: The oximeter adopts advanced sensing technology, the test results will be displayed on the screen only 5S. No need to wait.
OLED DISPLAY: Clear, energy-savvy, and accurate—that's the EZPulse difference! Yes, even grandpa and grandma can read their data results. It's convenient and compact, too, so there's no reason for you to miss getting your regular checks.
MULTI DIRECTION DISPLAY: You can manually adjust the direction of the interface that suits you best for better comfort!
Here's what our customers have to say about the EZPulse:
Simple. Accurate. Reliable. 
For someone who has been living with asthma, checking my O2 levels is a daily undertaking. Hence, I own a couple of pulse oximeters to ensure I'm always within normal range. However, some devices often give me a large margin of errors, even after running it 2 to 3 times to get an average result. I even come to a point where I drive myself to the nearest clinic because of a false reading. But with EZPulse, I don't have to worry about errors or false readings anymore. I'm confident that this device gives accurate data about my O2 levels.
You might be wondering why.
Well, I did my test to see how accurate this device is. Before I went to one of my regular checkups, I run a test at home so I can verify the numbers from the doctor's office. And there was it, the results were in line with what my doctor got. So ever since that day, I never used other pulse oximeters than this. I highly recommend this device.
Harold S., Verified Purchase
Highly recommended for athletes and sports enthusiasts!
I'm a volleyball player. Not professional, but a die-hard enthusiast. I train by myself, follow exercises on Youtube, and join camps to improve my skills. One of the things I noticed whenever I'm training is shortness of breath. Mind you, I'm completely healthy. I don't have asthma or anything that could cause such a drop in my performance. Some say it's because of overtraining, so a friend of mine recommended using pulse oximeters to give me a snapshot of my body's ability to process oxygen. The EZPulse is excellent in giving the data I need to create a new routine to train my oxygen intake. I joined aerobic fitness and consulted with experts for exercises, such as resting heart rate, diaphragmatic breathing, etc. And the results were amazing. I think I wasn't able to improve my performance without the help of this pulse oximeter. So if you're an athlete or someone who tends to overtrain, it's best to have this device in your gym bag.
Dax T., Verified Purchase
Specifications:
Size: 5.7 x 3.2 x 3.3 cm.
Battery: 2xAAA battery (not included).
Screen resolution: 128×64.
Sp02 measuring range: 0%-100%.
PR measuring range: 30bpm-250bpm.
Voltage: DC 3V.
Power consumption: <30mA.
How to use the EZPulse?
Turn the pulse oximeter on and wait for 3 seconds to finish buffering.
Slide your fingertip into the device and wait for 5 seconds until the device finishes checking your O2 and pulse status.
Once done, you can leave the device or manually press the switch button to turn it off.
Packing List
1 x Pulse Oximeter
1 x Manual
1 x Lanyard
1 x Package Box
1 x Storage Bag
1 x Silicone Cover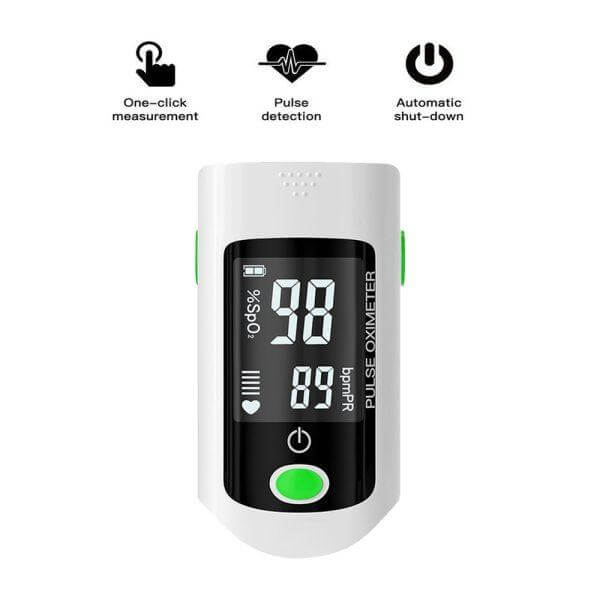 Frequently Asked Questions
Do you offer a replacement for devices damaged by delivery?
Ans: Yes. You can send us an email about this concern using our contact form or directly message us at support@vystamed.com.
Is this device more accurate than other products online?
Ans: Accuracy can be affected by several factors, but the EZPulse is designed to deliver minimal error as much as possible.
Some devices are really hard to read or understand, is this device suitable for elderlies?
Ans: The EZPulse is 100% easy to read. With its high brightness and top-notch display, your grandma or grandpa will find it easy to understand the data given by this device.
Will this hurt every time I run a test?
Ans: Absolutely, no! The EZPulse is designed with comfort and accuracy in mind. Its soft rubber ensures that your fingertips will feel at ease whenever you run a test.
Does this device last longer than other devices?
Ans: Yes. Regarding power, the EZPulse uses easy-to-replace batteries that can last you for weeks. It even has an auto shut-off to save power and guarantees to run at low consumption so that it'll last longer.