A trusted and reliable Pulse Oximeter to keep your health in check!
Not everyone has the luxury to go to the doctor's office just to get a simple pulse O2 reading. And with the health emergency that we face today, it's important to have a quick and reliable solution to promote better health management at home.
At MediPlus, we're dedicated to making efficient health management within reach for you and your family—anytime, anywhere. That's why we came up with the MediPlus Rechargeable Digital Pulse Oximeter to give you access to reliable and accurate data about your oxygen and pulse status.
With such comprehensive data at your fingertips, you'll always stay on top of your health and prevent further issues that could affect your quality of life.
So get the MediPlus and keep it in your nightstand, purse, backpack, car, or anywhere you feel is accessible, and don't let unawareness be the cause of something severe.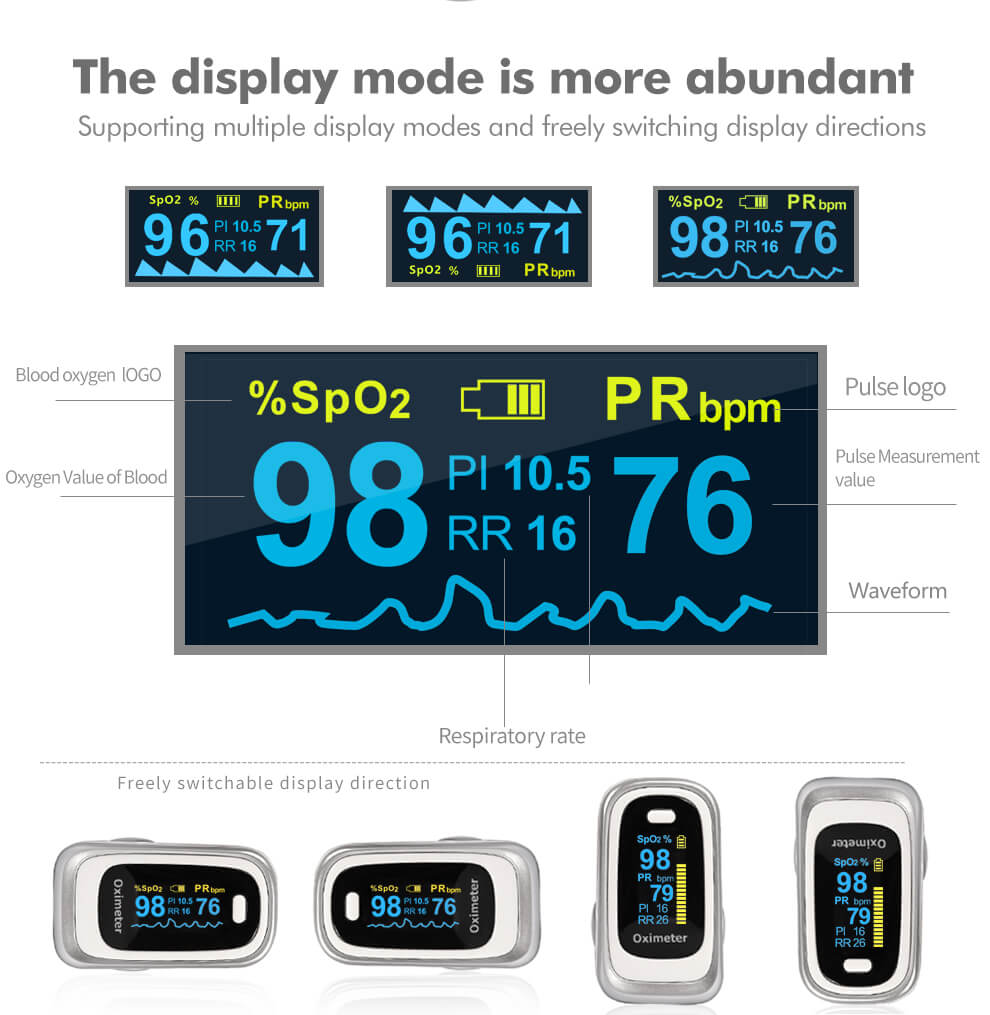 How can MediPlus help you take charge of your health all the time?
FAST & ACCURATE RESULTS: It'll only take seconds for you to access your real-time O2 level and pulse rate
PORTABLE & COMPACT: Keep your health in check wherever you go and prevent unwanted medical emergencies
MULTI-DIRECTIONAL DISPLAY: See your data at your convenience
RESPIRATORY RATE MONITORING FUNCTION: Run checks even when your eyes are closed to better assess your overall health. At rest, a normal breathing rate for adults is 12-20 breaths per minute. Reducing your respiration rate to 6-8 breaths per minute helps to reduce stress, calm you down, and improves health and focus.
USER-FRIENDLY OPERATION: You don't need to be tech-savvy to use the device—allowing every member of your family to run health checks.
Customer Testimonials
Results are in line with the doctor's data!
I got this device as a recommendation from my doctor to keep my O2 levels in check. The previous one was way too inaccurate for me. This MediPlus, however, was the only one that's in line with my doctor's readings. I even had this checked with my doctors just to make sure that everything I see on this device is 100% accurate. So if you're still looking for a trusted and reliable Pulse Oximeter, this MediPlus is the best option. And it's FDA-approved, so you know that'll work to your advantage.
Chris H., Verified Purchase
More About this Item:
Oximeter Saturation:

Measurement Range: 70% to 99%
Measurement Accuracy: 80% to 99% within the range of ± 2% AND 70% to 79% within the range of ± 3%, 70% or less is not required
Resolution: blood oxygen saturation ± 1%

Pulse Rate:

Measuring Range: 30BPM~240BPM
Measurement Accuracy: ±1BPM or ±1% of the measured value (larger value)

Display Mode:

HD two-color 0.96 inch OLED screen display
5 levels of brightness adjustment
Four directions, six display modes

Packing Parameters:

N.W.: 41g (without battery) G.W.:68g
Product Size: 62*32*33mm | Box Size: 81*68*39mm | QTY: 100pcs
CTN Size: 430*370*210mm | CBM: 0.03m3 | G.W.:7.5kg

Scope of Application: Finger-clamp pulse oximeter for hospital, home, school, and medical center testing.
We're FDA-approved and CE-certified to deliver a trustworthy solution for your health
The answer is YES. The MediPlus Pulse Oximeter has passed the necessary checks to ensure reliability in checking your oxygen level and pulse rate. It is trusted by doctors and institutions in assessing patients both in and out of the hospital or clinic.
With MediPlus, get quality health management at home as soon as a slight symptom occurs or create hearty health checks for you and your family. So choose MediPlus and experience these amazing features:
Two-color 0.96-inch OLED display with 5 levels of brightness adjustable
6 different display modes/interface
Low battery indicator
Access blood oxygen, pulse, bar graph, pulse waveform display, and PI perfusion monitoring
RR respiratory rate function as waveform recording. [Records up to 8 hours of waveform data]
Operation menu for function setting
Auto shut down after 8-seconds if no signal, saving power
Small size, lightweight, and easy to carry out
Power Requirement:2 x AAA 1.5V alkaline battery
Package Content:
1 x Fingertip Oximeter(PE bag)
1 x Lanyard
1 x White card lining
1 x English instruction manual
1 × English color box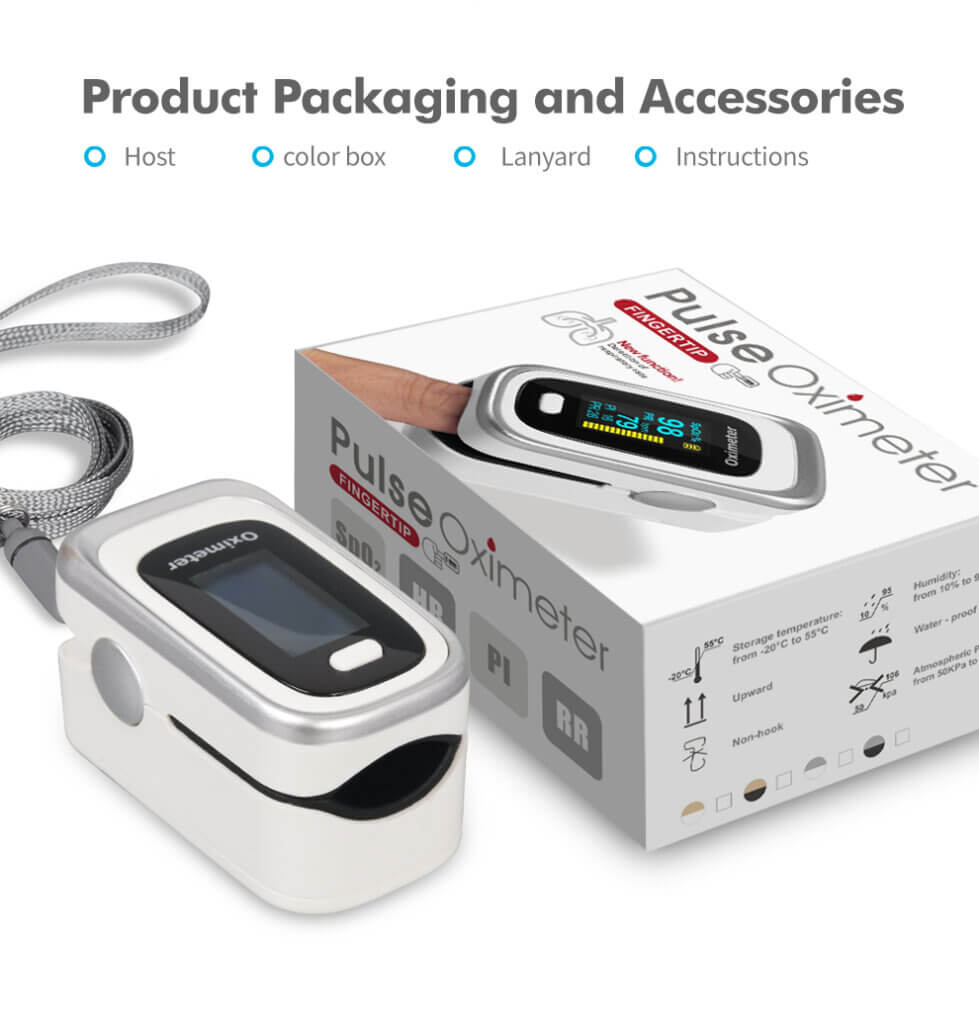 Frequently Asked Questions
Is this device FDA-approved or undergone validation to ensure accurate results?
Ans: Yes. The MediPlus Pulse Oximeter is FDA-approved and CE-certified to guarantee fast, comprehensive, and accurate data about your health status.
Will my nail polish affect the accuracy of the device?
Ans: Polished nails or artificial nails may cause inaccurate measurements. For best results, please use your unpolished nails to guarantee accurate results.
I received a defective device, can I have it replaced?
Ans: Absolutely, yes! We're committed to delivering top-notch health solutions for you and your family. So if in case you received a defective device, you can use our contact form or send an email to supprt@vystamed.com, and our support team will make sure to resolve all your concerns.
How accurate is this Pulse Oximeter?
Ans: The MediPlus has an 80% to 99% within the range of ± 2% AND 70% to 79% within the range of ± 3% accuracy fro oxygen saturation and ±1BPM or ±1% of the measured value for pulse rate.
Is this easy to use?
Ans: Yes, it's extremely easy to use. Anyone in the family can use this device on their own without any hassle.