In this respiratory health emergency, there's no other brand to trust to keep your OXYGEN LEVEL AND HEART RATE in check than the OxiCare Pulse Oximeter!
Get access to essential data about your health and avoid serious problems that may arise if left unchecked in the future. Just by giving close and thoughtful attention to your heart and breathing could save you hundreds of dollars of hospital bills and medication.
Take actions before it's too late and monitor your oxygen levels and heartbeat wherever, whenever with IMDK OxiCare pulse oximeter!
IMDK OxiCare Finger Pulse Oximeter
The IMDK OxiCare finger pulse oximeter uses the latest oxygen sensor technology to accurately determine the level of oxygen in your blood (SpO2) in just 8 seconds. The measurement range is between 70% to 99% with ±2% accuracy and ±1% of resolution.
And using this device is easy peasy!
The Oxicare Pulse Oximeter fits with every finger size and provides 6,000 spot checks. It provides an easy, one-press operation and comes with a lanyard for easy transport. And to inform you once the check is done, an alarm will sound to indicate your oxygen level and heart rate. Once done, it will automatically power off after 8 seconds.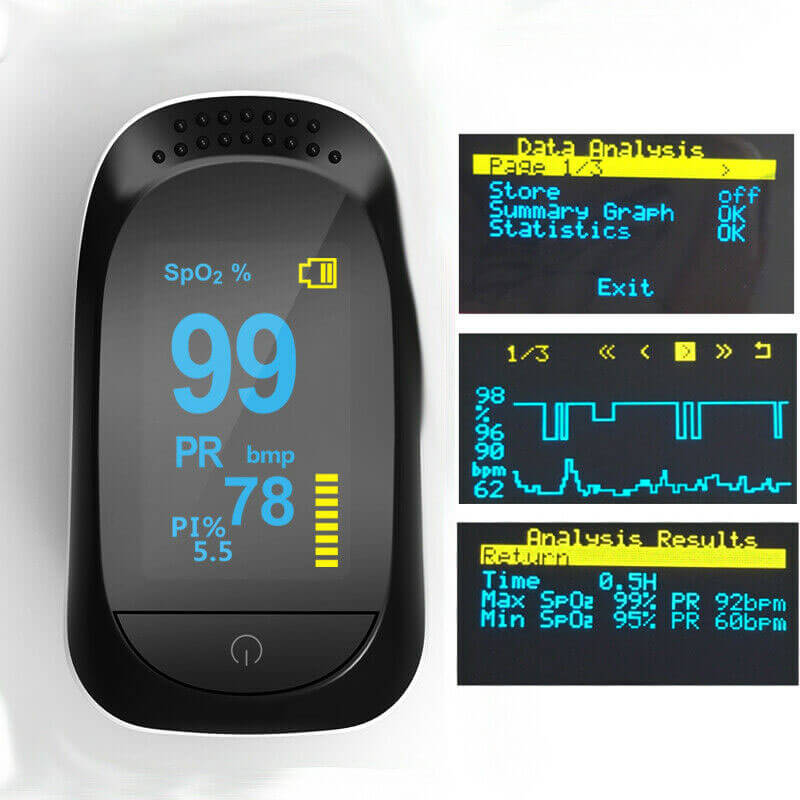 Check out these amazing features that are designed to deliver convenient, comprehensive, and accurate readings!
PERFUSION INDEX (PI): This feature is essential to improve the reliability of each reading dramatically. The PI conveniently informs you of the strength of your pulse and assesses peripheral perfusion dynamics due to changes in peripheral vascular tone.
MULTI-DIRECTIONAL DISPLAY: This pulse oximeter gives your 4 directions and 6 modes to allow you to view your results in any direction so that you can get access to your data with ease and convenience.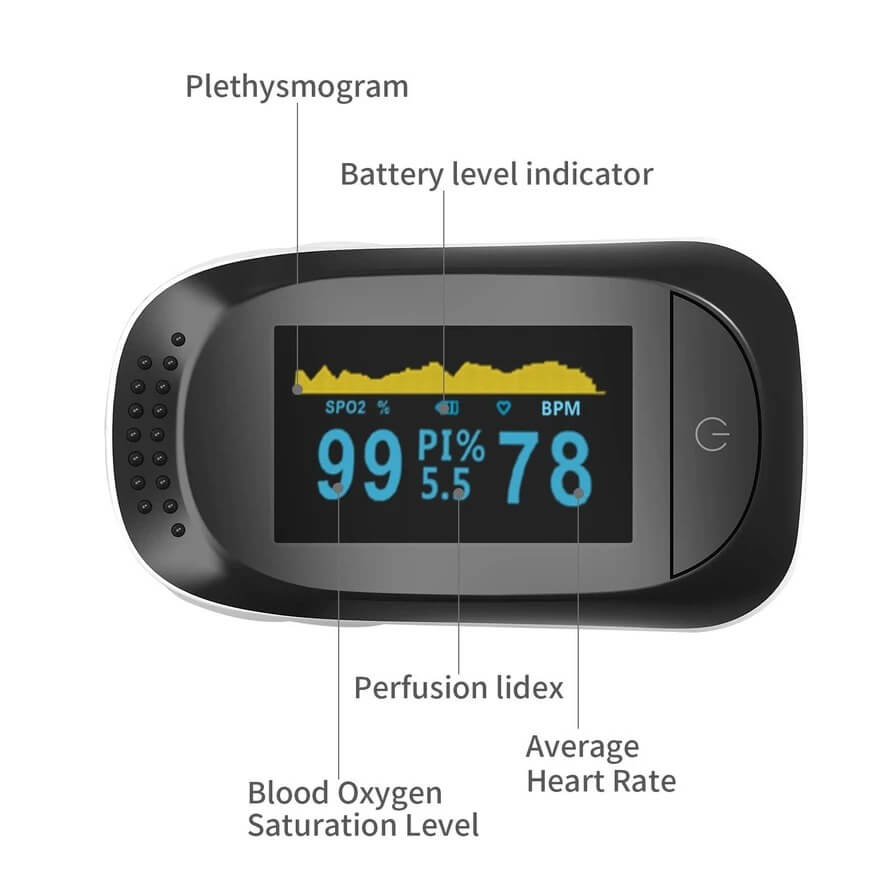 AUTO ALARM FUNCTION: OxiCare's alarm will notify you via warning sounds once the measured values go beyond the setting for immediate response.
OxiCare is one of the go-to brands for quality pulse oximeters. See these amazing reviews:
The Best Pulse Oximeter Ever—Period!
Out of all the Pulse Oximeters I had in the past, this device from OxiCare is the absolute standout. And here's why. The OxiCare readings a ±2% accuracy, which is far better than most popular brands. I also got to test this accuracy after a couple of trips to the doctors because of my asthma. And mind you, the readings this device gave were in line with the ER. Ever since then, I'm confident that the data this pulse oximeter provides is pretty accurate.
Joshua, C., Verified Purchase
Comprehensive report? This device got it!
If daily data about your health status is something you need to create in-depth conversations with your doctor, then this OxiCare Pulse Oximeter is a great tool. Also, the device's accuracy is something that you will appreciate. Unlike other brands that give you 10 point or higher difference, this one goes between 2 to 5 points only. I even do multiple tests at once to get an average reading for better results. Great product, indeed!
Johannes W., Verified Purchase
Key Features:
OLED display for easy read, 4 direction adjustable
Simultaneous display for testing value and bar graph
Low-power consumption
Low battery voltage indicator
Auto power off 8 seconds automatic shutdown
Very light: weight only 2.2 oz with 2 AAA alkaline batteries (batteries not included)
Fits every finger size
6,000 spot checks
FDA approved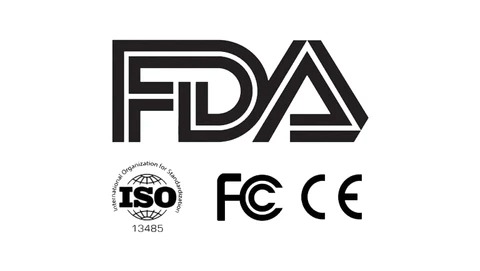 Parameters
SpO2

Measurement range: 70% – 99%
Resolution: ±1%
Accuracy: ±2% (70%-99%), unspecified (<70%)
Pulse Rate

Measurement range: 30 BPM – 240 BPM
Resolution: ±1%
Accuracy: ±2bpm or +2% (select larger)
Low Perfusion ≤0.4%

Power: 2AAA 1.5 V alkaline battery (not included in the package)
Supply voltage: 2.6-3.6V
Air Pressure: 70kPA – 106 kPa
Working Current: ≤ 30 mA