Keep an Eye on Your Blood Glucose Levels Whenever, Wherever with the KryCheck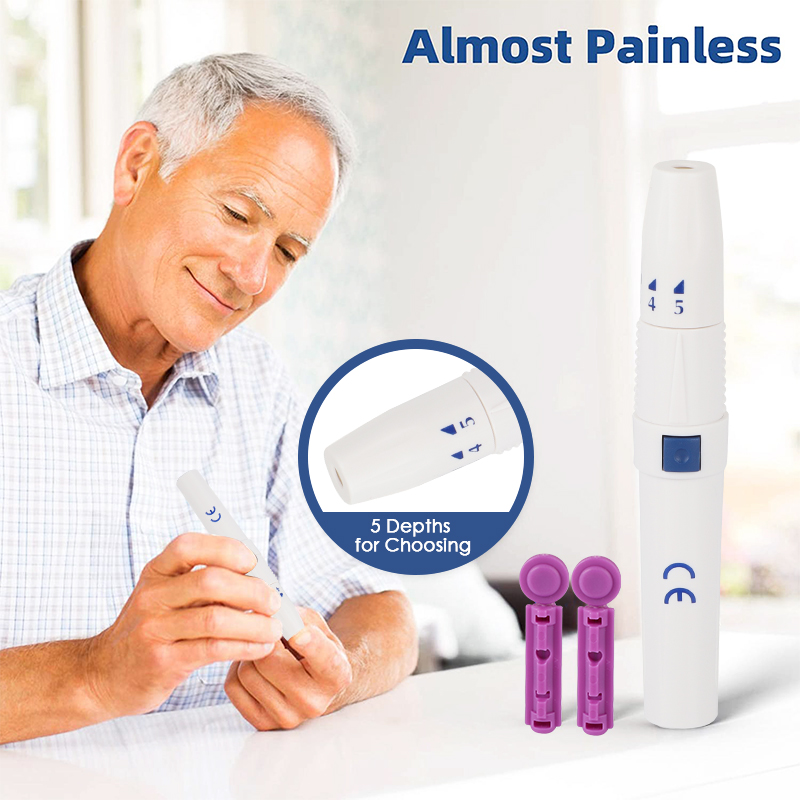 Now you can measure your blood glucose accurately wherever and whenever with the KryChech blood glucose monitor! The glucose monitor with a design that provides almost painless blood sugar testing. The KryCheck features the latest technology in blood sugar testing to help you effectively and accurately keep your blood sugar levels in check. Live healthily, live freely – keep your health in check with KryCheck!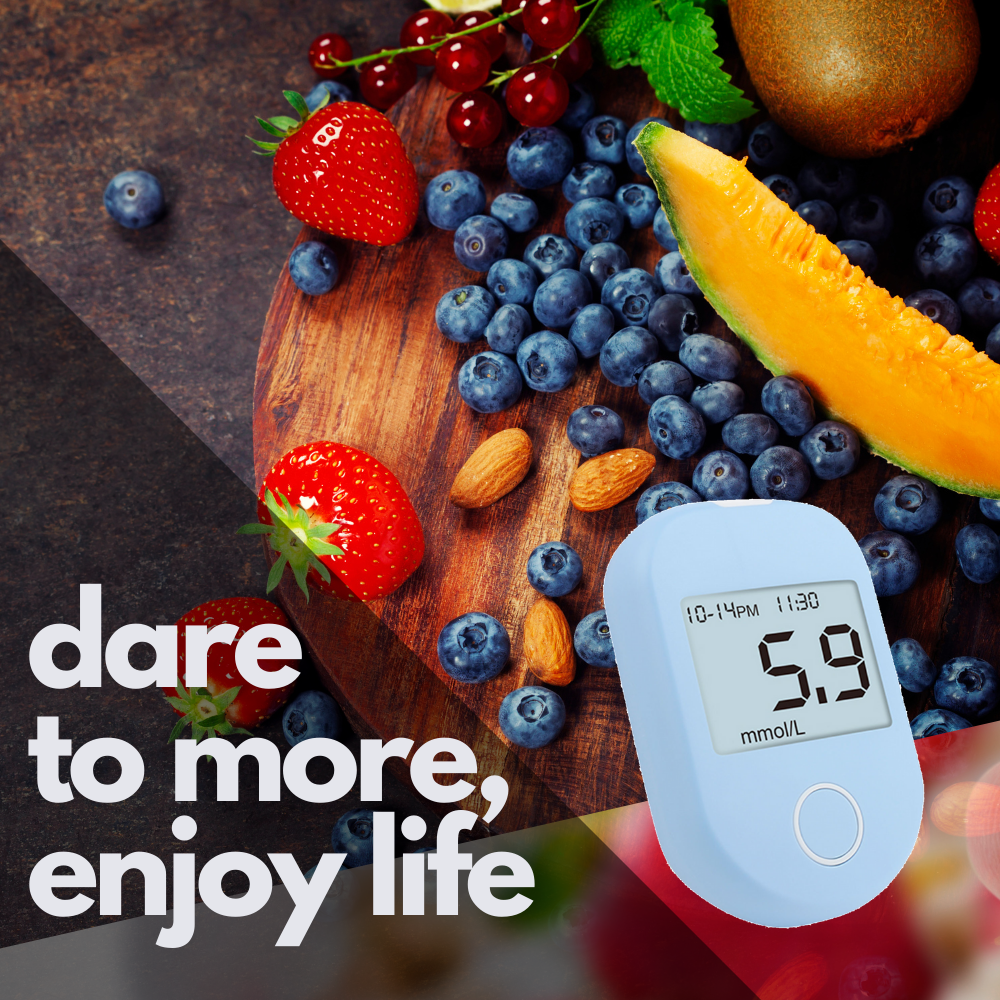 Why Your Health Deserves KryCheck!
This device provides a painless way of measuring blood sugar levels. The elderly won't have to worry about painful testing.
Features a state-of-the-art technology that prevents inaccurate measurement values ​​due to forgetting the code. The operation for this device is 100% easy!

One of the fastest glucose test devices in the market. You will immediately get your readings in just a few minutes—no need to worry about not getting a timely, reliable result.

The device is stylish and portable. It's a perfect blood sugar monitoring device for traveling!

The test paper only needs 0.6 microliters, and the amount of blood used is small, avoiding fingers and easing the psychological burden of the elderly.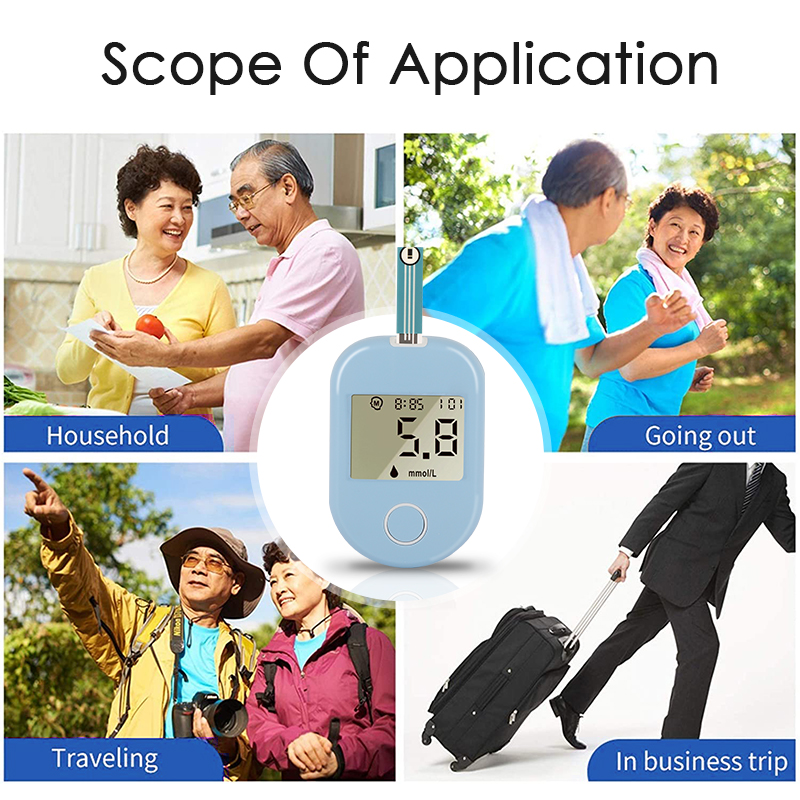 Product Features:
The device only needs little blood. Results in seconds! The KryCheck only requires .6 microliters of blood. With this amount, you can get blood test results in just 10 seconds.
The KryCheck uses automatic test strip type recognition. No coding of test strips is required. With this feature, you run no risk of getting inaccurate, unreliable results.
The best device for self-testing. The handy, convenient design with easy operations makes it easy to check your blood levels regularly.
A handy blood sugar test kit is great for testing on the go. Perfect device for traveling and testing on the go. Now, you won't have to worry about missing important blood sugar information.
Easy to use! The kit includes simple operations that are easy for both young and old users.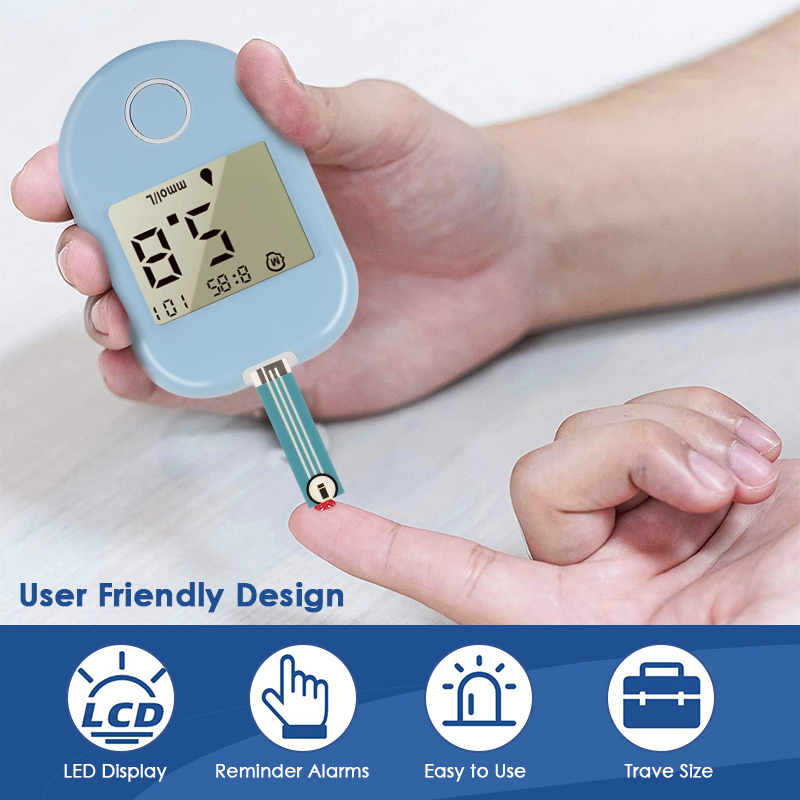 How to use it?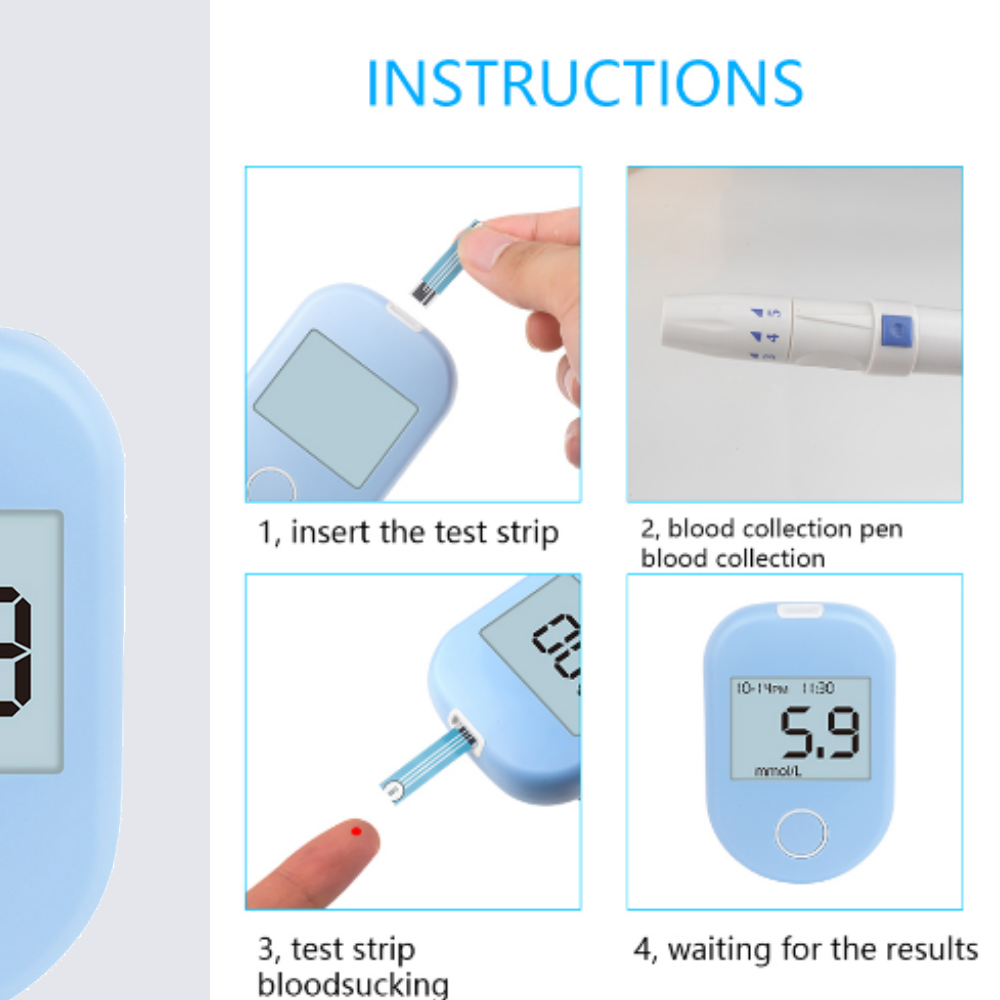 Specification:
Blood sample: fresh peripheral whole blood, whole venous blood
Test time: 10s
Blood volume: 0.6μl

Power On & Off: Automatically

Battery: 2*AAA battery(not include)
Color: Blue
Size: 6*8.5cm(2.3*3.3in)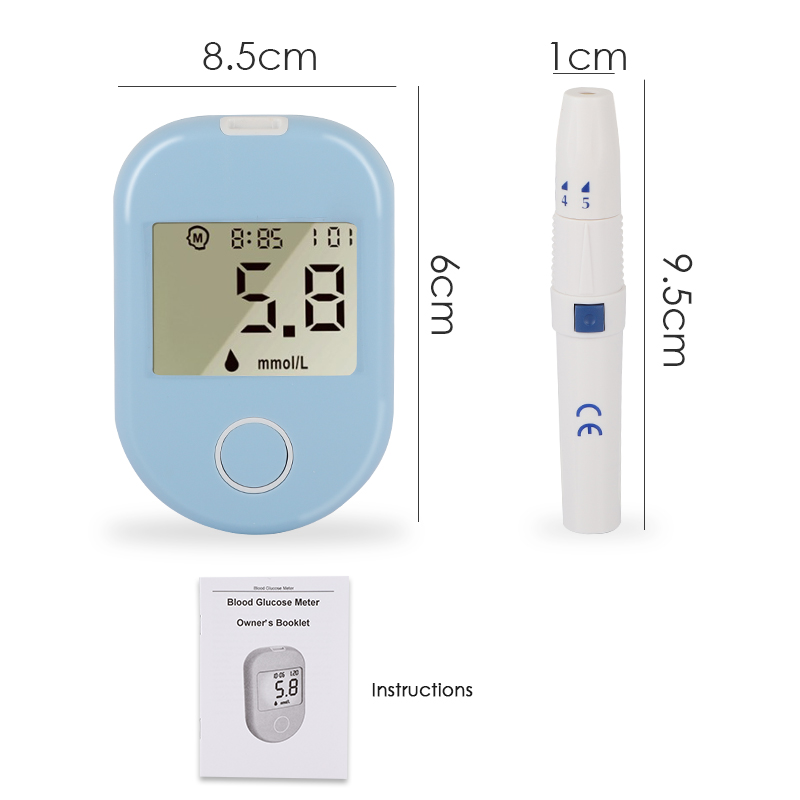 Packing List:
1 * Glucose Meters Host
1 * Lancet Pen
50 Test Strips
50 Needles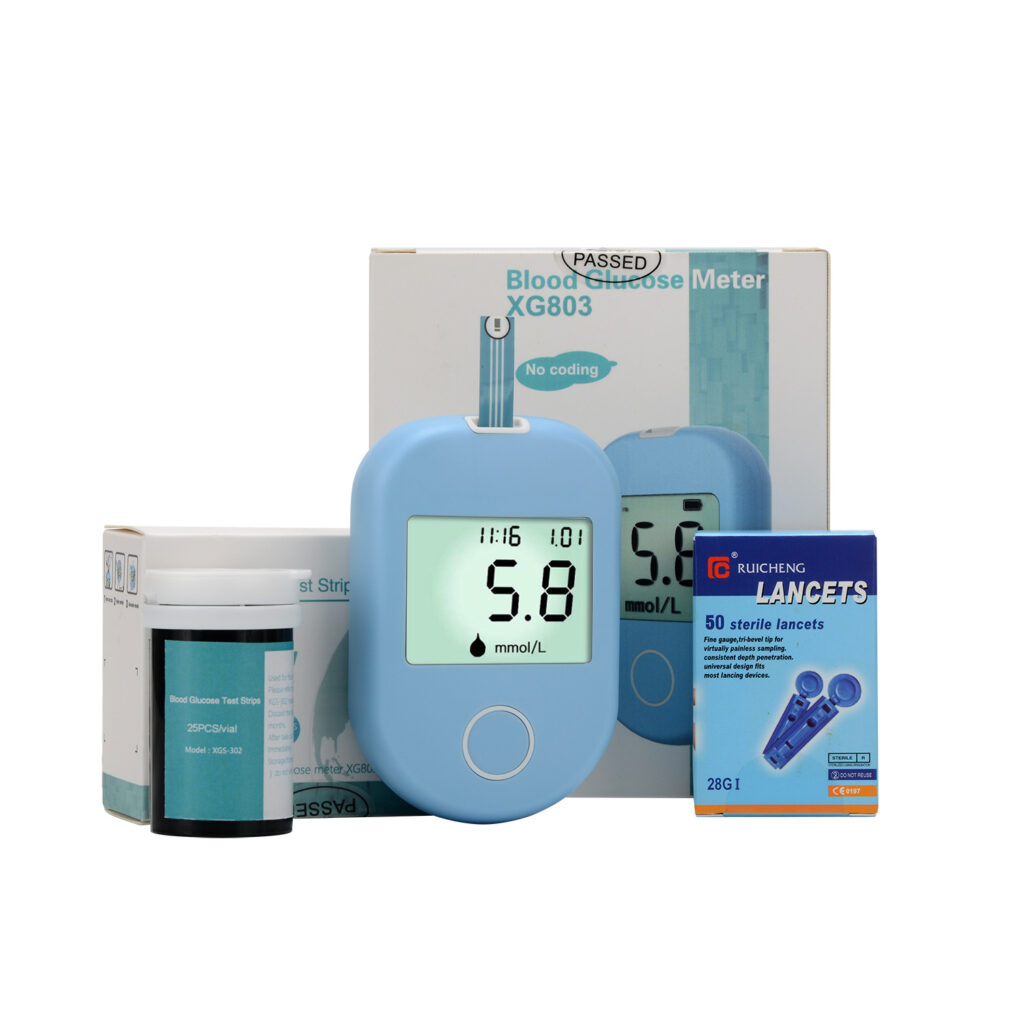 Notes:
Due to the difference between different monitors, the picture may not reflect the actual color of the item.
The unit of our product is mg/dL instead of mmol/L, and the picture is for reference only.
Please allow slight dimension difference due to different manual measurements.