OmroCheck: Empowering Your Family's Health at Home
A simple headache could mean a lot of things. It could be an impending migraine, an infection, or a sign of elevated blood pressure. Keep your and your family's health in check as soon as a symptom occurs with OmroCheck Automatic Arm Blood Pressure Monitor.
With OmroCheck at your home, you'll get:
Fast and accurate reading of your blood pressure on your own
Access to your previous blood pressure reading for better management
Save hundreds of dollars from clinic visits
Establish better health management at home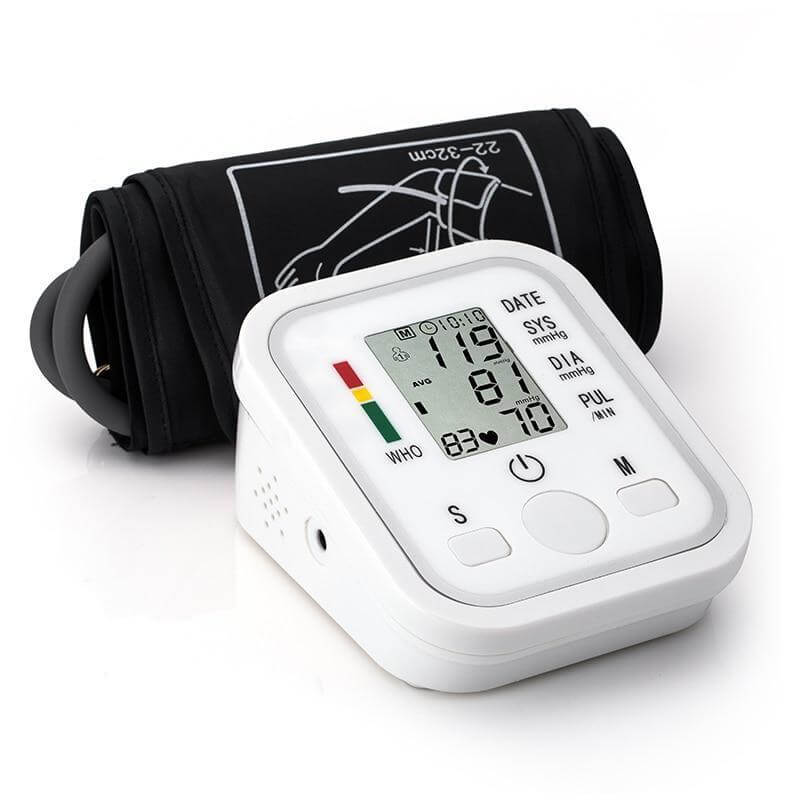 Professional Quality Service for Your Health
Even the best healthcare institutions use the OmroCheck to get fast and accurate results to service multiple patients all at once. And you can have this professional quality service in the comfort of your home.
The OmroCheck comes with WHO blood pressure color classification to help you easily determine possible risks. It even measures diastolic, systolic, and pulse to better gauge your health status.
Green: Normal
Yellow: Neutral
Red: High
And these top-notch features can help you stay on top of your health all the time!
GET ACCURATE RESULTS IN JUST SECONDS
Now, you don't have to go to the hospital or clinic just to have your blood pressure checked. The OmroCheck provides fast and accurate reading in seconds. Simply run the reading sensors on your arms and get access to essential data relative to your health.
DIASTOLIC, SYSTOLIC, AND PULSE MEASUREMENT
OmroCheck finds out your diastolic, systolic, and pulse rates to deliver a much comprehensive report of your blood pressure status. With this data, you can better manage your blood pressure—whether you need immediate medical assistance or not.
STORES UP TO 99 READINGS
Keep track of blood pressure changes easily with OmroCheck. The BP monitor can store up to 99 readings that you can use to compare blood pressure changes. This feature enables you to not only better track your blood pressure status but also to determine certain activities or diets that cause your BP to change.
EASY-WRAP, COMFORTABLE FIT CUFFS
Unlike other BP monitors that inflate on one side only, the OmroCheck gives you 360° support to help reduce reading errors and ensure inflation over your brachial artery.
HANDY AND PORTABLE
Easy to bring everywhere. It's lightweight AND only weighs around 400 grams. This design gives you the ability to carry the OmroCheck in your bag to help you keep track of your BP status no matter what your indulgences may be.
The OmroCheck has been in service for over 5 years, and customers from all over the world love it! Here are some of the best reviews we have received:
Just the best BP Monitor I owned
Living with hypertension is challenging, but life becomes simpler if you have this device at home. Before, whenever I experience a symptom, I take myself to the closest clinic just to get my BP checked. It was exhausting and downright expensive. Thanks to a good friend of mine, she introduced this BP monitor to me, and everything was much easier since then. I'm no longer in doubt whenever my BP spikes or unaware if I require immediate assistance. I can say that I'm now, 100% on top of my health. So thanks, OmroCheck!
Janice, Verified Purchase
Excellent Accuracy!
When it comes to my daily BP check, nothing beats the accuracy of this OmroCheck! The cuff inflates perfectly around your arm to ensure an accurate reading. And as per my experience, the range difference is between 2 to 5 points only, which is way, way better than the BP monitors I've tried in the past. You just have to make sure you wear the armband correctly. I highly recommend this BP monitor.
Darwin, Verified Purchase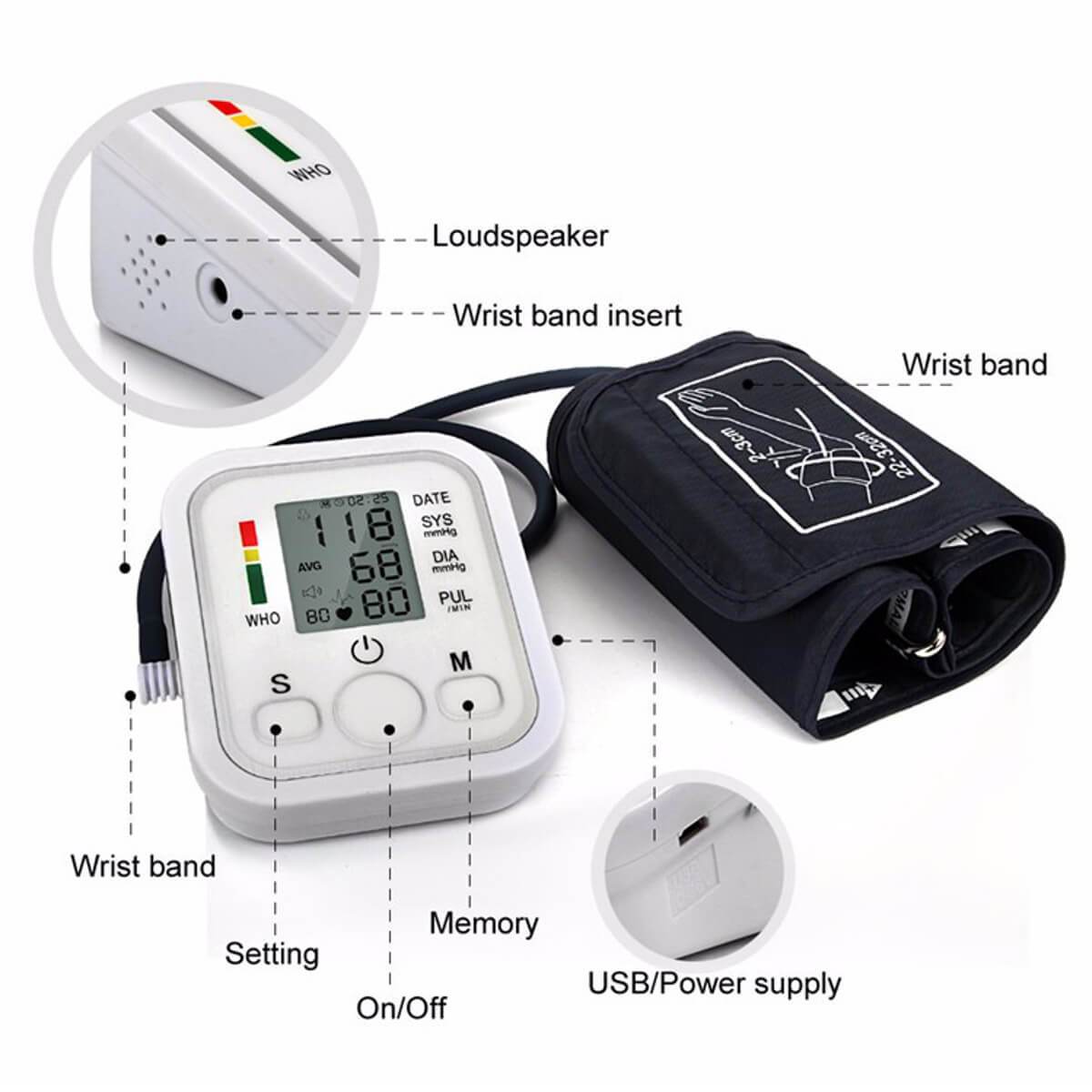 More About this Item:
COMPACT AND PRACTICAL: Accurate measurement, small and exquisite, easy to carry
LARGE LCD DISPLAY: LCD screen shows all measurements clearly, especially easy for the elderly to read
ACCURATE READING: Clinically accurate readings that enable systolic and diastolic blood pressure and heart rate readings with ease
USER-FRIENDLY: Easy to operate, switching button to start measuring
INDICATIONS: WHO Warning message function
MEMORY: Double mode, each of the 99 sets of measurements of memory.
AUTO SHUTDOWN: No operation in 1-minute automatic shutdown.
POWER TYPE: Powered by 4*AAA, convenient to use.
MEASUREMENT MODE: Oscillometric method
Use Method and Precautions:
Keep Relaxed before measuring, sit down quietly for a moment.
Palms up put the Armband parallel to the heart.
Palms up, keep the intake pipe and the arteries paralleled.
Wrap the Armband around your arm tightly in the opposite direction, paste together.
Place one finger into it is the most appropriate.
Keep the Armband paralleled to the heart, palms up.
Press the on/off button, keep relaxed and start measuring.
High pressure, low pressure, pulse instantly display after 40 seconds.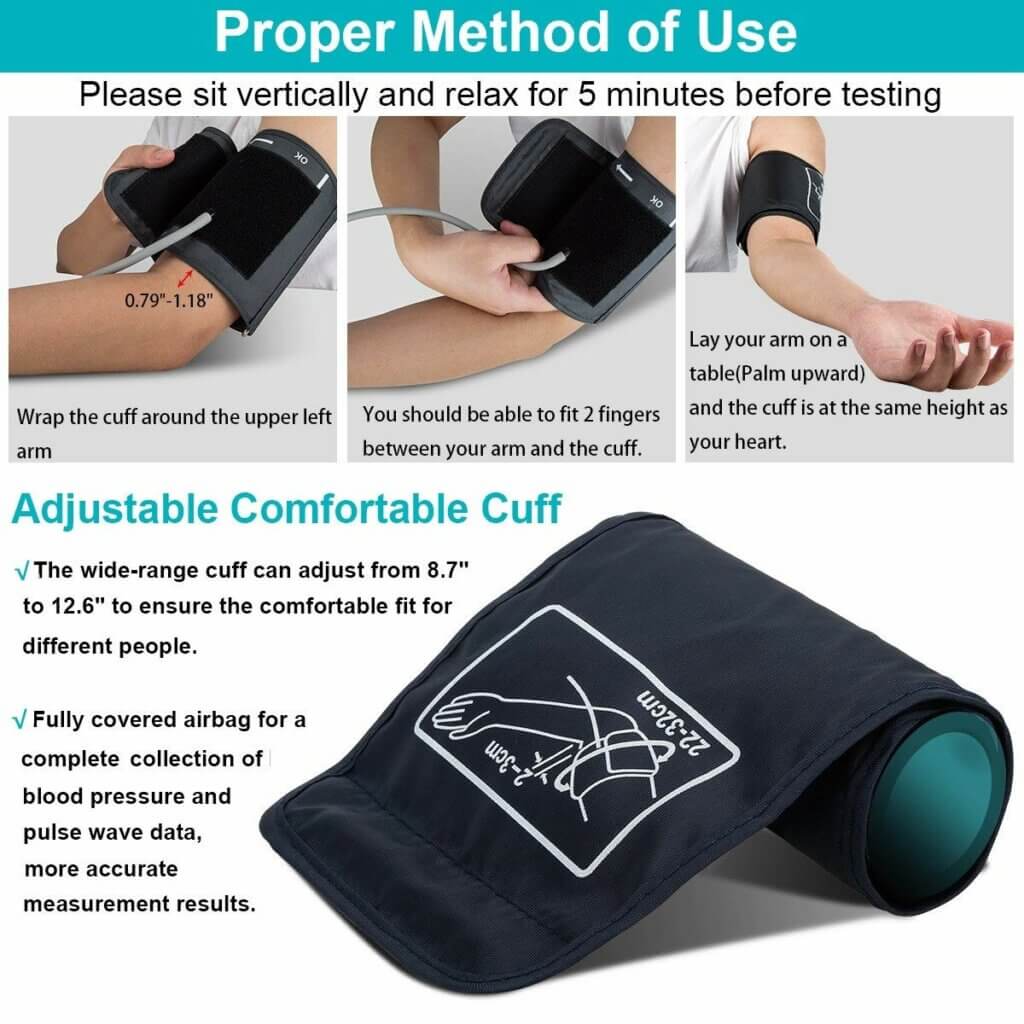 Frequently Asked Questions
How accurate is this BP Monitor?
Ans: Most home blood pressure monitors work around between 5% to 15% inaccuracy, but the OmroCheck gives you within 2 to 5 points difference only. You can also validate it by checking the systolic blood pressure reading. If the result is within 10 points of the monitor, then it's generally accurate.
Can I use this device on my wrist?
Ans: You could, but we don't recommend it. That's because the cuff is bigger than your wrist, which could cause an inaccurate reading.
Does this machine make a bunch of noises?
Ans: No. The OmroCheck works around 20-42 dB, which is generally quieter than most people's conversation noise.
Is this battery efficient?
Ans: Yes. The device is designed to last longer and deliver more quality checks than standard BP monitors. It even has an auto-shutdown feature to help you save battery life.
Is this device light enough to be carried around?
Ans: Absolutely, yes! The OmroCheck is compact and lightweight so that you can take it wherever you go.